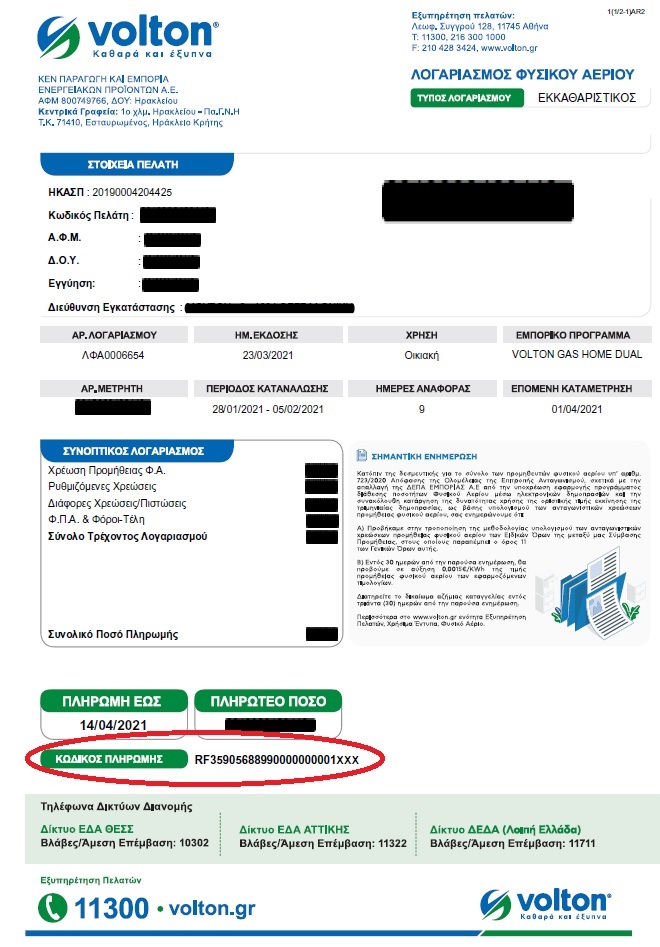 This screen is used to place standing orders for payment of fixed bills for the Company or the Organization you have chosen, by debiting a named bank account. The customer must fill out the following information at own responsibility:
 the account from which monies owed to company or the organization, will be debited.
 the Liable's Full Name
 the payment Code
The Payment Code consists of 25 digits, appears on the customer's payment bill as on below:
           25 digits where:
2 digits with the value RF
2 check digits
5 digits for the Organization Code
1 digit for the payment type
15 digits for the debt code
An upper debit limit on the bank account specified by the customer can be set and if bills are higher than that amount they will not be paid. If the customer does not wish to set a limit, leave this field blank.
 
It is possible to debit customer accounts to pay bills where the person owing money is a third party. Consequently, the orders are issued by customers who are beneficiaries of the deposit accounts to be debited.
 
Automatic bill payment does not commence automatically and only commences after the consumer is sent the first bill sent marked 'bill paid via Attica Bank'. In the days intervening until the direct debit is activated, the customer - consumer should pay his/her bills sent by the company or the organization as normal.
 
For each standing order the Bank does not pay the Company or the Organization the amount shown in each bill of the customer, in the case where on the payment-debit date there are inadequate funds in the named account or the account is inactive or the amount exceeds the upper debit limit stated in the standing order.
 
The expiry date for payment of bills is also the date on which customer accounts are debited. Under no circumstances is the bank obliged to notify the customer where the account is inactive, or there are inadequate funds on the debit date.
 
The transaction will be executed on the same day unless the following message appears: 'Your order is being processed and will be forwarded to the system later.You can check whether your order has been forwarded to the system through the Search-Recall menu option', which means that it will be executed on the next working day.
The Bank is not liable for any mistakes in the amount debited to the customer's account where this is not due to its fault. Liability lies solely with the Company/Organization.