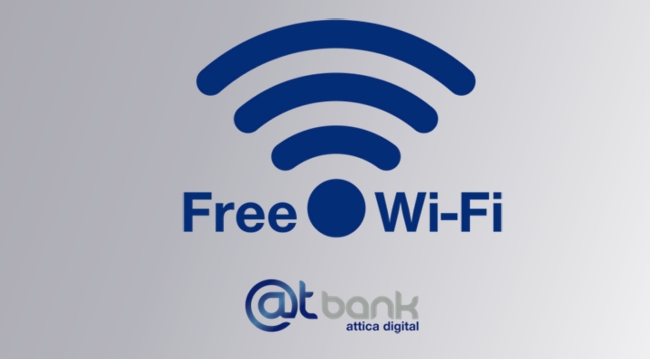 Attica Bank offers to you the attica wi-fi service to get free of charge internet access from your smartphone, tablet or laptop when you are in a branch or an external Attica bank ATM located in public services buildings or malls.
Through attica wi-fi service you have free access
To Social Media
To Attica Mobile App
On the Internet, excluding pages with inappropriate content.
 How can I connect to attica wi-fi service?
Your Wi-Fi device (smartphone, tablet or laptop) should be turned on and you should be close to one of Attica Bank's branch or Off-Site ATM where attica wi-fi service is offered.
In the Settings of your device, select from the list of available wireless Wi-Fi networks the one with the name (SSID) attica wi-fi, which you need to connect to.
The procedure for connecting to the service is simple:
Select from your device's Wi-Fi settings to connect to attica wi-fi network.
The attica wi-fi host page opens. In case that the host page does not appear, click the notification for connection to attica wi-fi network. This notification appears automatically, or for older devices, by dropping down the notification bar of your device.
From the 'Terms of Use' link, read the terms of use of the service and at the bottom of the page select 'BACK'.
In the 'Password' field in host page, enter the four characters that appear just above the field.
Select "ACCEPTANCE OF TERMS AND CONTINUE" and you are ready for browsing!
Internet access has a duration of 30 minutes after which you are automatically disconnected from the service. However, you can reconnect by following the login process.
Because the internet is an open environment, safe internet browsing, keeping and protecting personal data is the sole responsibility of the user of the service. Attica Bank and its affiliate Internet service provider are not responsible for the information and data that the user exchanges over the internet.
Also, the service does not allow navigation on insecure, suspicious and dubious security websites.